Solar is hot! It's little wonder many people want to install solar products and make green helping others go green. The solar installation education industry has become brisk as both home improvement contractors and general laborers flock to schools that teach the techniques to install solar panels.
Infinite Solar sells training courses for installer wannabes. Their site needed to shine a little brighter to attract more clients. We provided site architecture, responsive website design and development, custom WordPress-based CMS, extensive SEO work, marketing strategy consulting and implementation, pay-per-click setup and management, marketing collateral, landing pages, and split testing.
The site's two-tone green color scheme bespeaks the environmental aspects of using solar power. Its yellow and green logo, representing the sun and the environment, is comprised of an in-motion circle intertwined with a gear indicates the technology and mechanics behind environmentally-friendly solar science.
Since people looking for solar education may not have heard of Infinite Solar, SEO is absolutely crucial to building Infinite Solar's site. Terms such as "solar technology," "green building," "solar power," "LEED certification," "accredited training," "solar training," "solar education" and more, woven into the flow of the content, help people searching for solar installation classes find just what they need with Infinite Solar.
We included robust photo and video galleries, testimonials and, on each page, professional logos of each of Infinite Solar's industry affiliations to instill confidence in potential students that Infinite Solar provides professional, up-to-date training in solar technology. Who wants to waste money with poor quality courses?
Links to travel accommodations and things to do in Philadelphia make it easier for students traveling to Infinite Solar to take courses.
With all of these virtual tools in their online toolbox, Infinite Solar creates an accurate impression as a leader in the solar education industry. Shine on, Infinite Solar.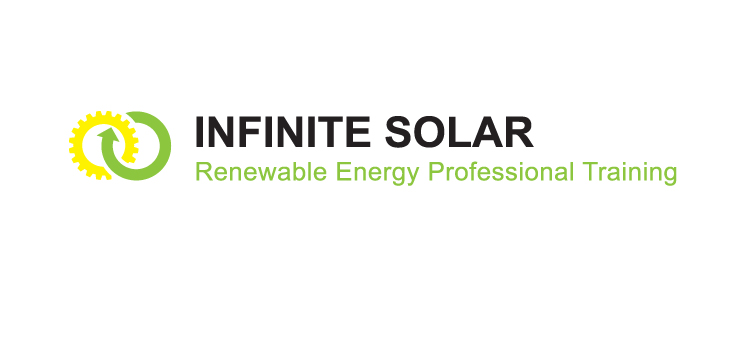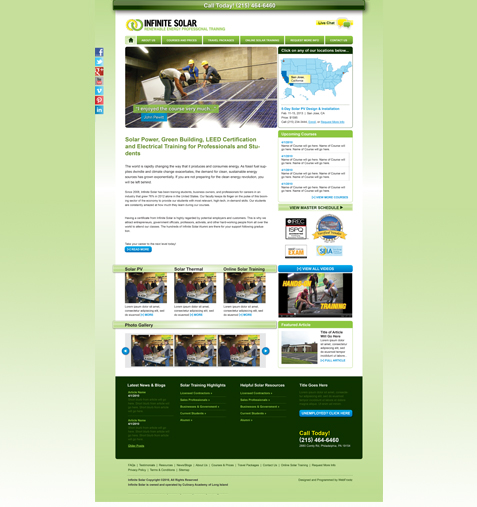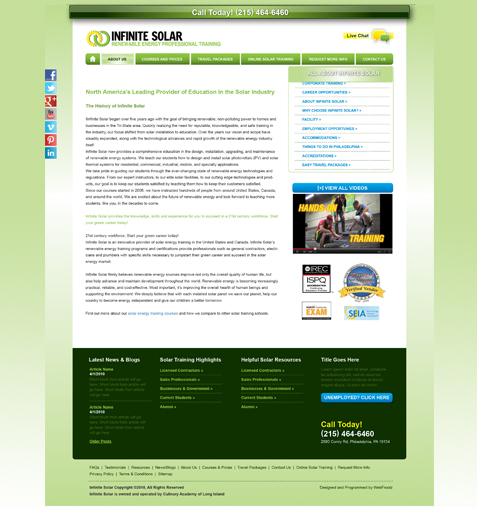 About the client
Since 2008, Infinite Solar has been training students, business owners, and professionals for careers in an industry that grew 76% in 2012 alone in the United States. Our faculty keeps its finger on the pulse of this booming sector of the economy to provide our students with most relevant, high-tech, in-demand skills. Our students are constantly amazed at how much they learn during our courses.