Stock art based on ancient cultural cues and Biblical depictions: terrific concept, but hard to market and implement. Art quality images can beautifully illustrate books, sermons, lectures, and other events and materials. The art relies upon historic research, archaeological sites, and Biblical descriptions to reconstruct scenes of ancient Greece, Rome, Babylon and other Middle East areas. But how could illustrator Balage Balogh convey to potential buyers the quality and accuracy of his art? He reached out to WebFrootz.
Selling stock images online gets tricky with offering different price levels for different resolutions, and different licensing terms for every single image. WebFrootz dug deep to deliver concept development and implementation, complete website design and development, custom e-commerce solution for sophisticated stock photography sales online, CMS, hosting, email, ongoing support, and SEO.
Categorizing the art under three subject heads–Old Testament, Mesopotamia and New Testament–makes sense since most people purchasing from Archaeology Illustrated need art related to a specific period or event in Biblical history. All the art is represented in the galleries, protected by prominent watermarks. We built in a search option by title, description or keyword to make it easy to find images.
We used variegated shades of brown and dark brown tabs and print to underscore Balogh's archaeological research and represent the desert sand of the Middle East. The background's abstract shapes in earth tone shades allude to Mediterranean motifs.
We included lists of where Balogh's art has appeared in exhibitions, in publications, and in television documentaries. These lists help emphasize the art quality of the work, as does a testimonial from Discovery Channel.
Now anyone looking for a Biblical illustration can order off the Triple-W with ease, whether it's a student needing low-resolution on a budget or a publishing house seeking high resolution images with worldwide.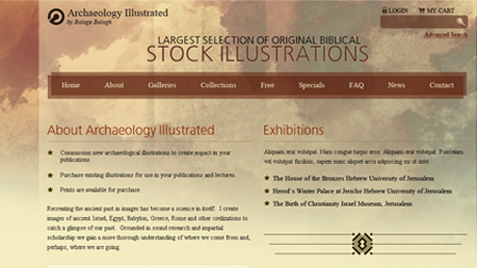 About the client
Archaeology Illustrated users can commission new archaeological illustrations or purchase existing illustrations and prints from an impressive selection of scenes. Archaeology Illustrated will keep the site stocked with new illustrations and biblical images for download.