From Gen Yers with chronic health needs to retirees with increasing health issues, everyone's becoming more conscious of health care planning options. Who wouldn't want to stay in control of how their daily living and health care needs are met? Gone are the days where a patient "likes it or lumps it." Today's patients keep the helm of their life planning firmly grasped in their hands. In this cultural phenomenon, Kelynco spotted an opportunity and developed the concept of Life Care Planning(c) to give people more options and control.
 RNs and other health care professionals can meet their patients' life care planning needs beyond the scope of the skills related to their standard coursework. The key is enhancing their basic skills and their earning potential though further education. Kelynco developed training courses to meet health professionals' need for additional training.
 Graduates of the program can use nursing care plans for litigation cases, assisting seniors in home management, increasing case management skills, or developing a plan for insurance companies. Kelynco built a company on the premise of helping health care professionals advance their careers while offering a broader scope of care.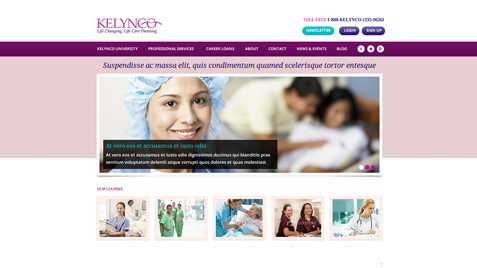 Getting the word–that's our job. We provided consulting, system architecture, user/student management platform, course management platform, payment gateway, responsive web design, complete front-end and back-end development, analytics integration, newsletter signup and MailChimp integration, hosting and email, and custom CMS (content management system), all with SEO-friendly text to make it easier for health care pros to find Kelynco, even if they're not sure what they need to enhance their careers in health care.
Kelynco has poised itself as a leader in lifelong health maintenance. WebFrootz is proud to be part of their success.