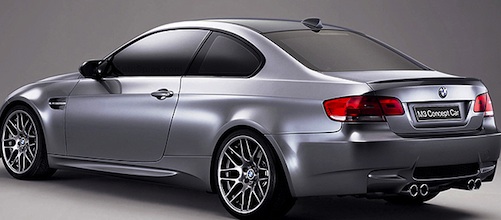 If you're looking for a one-stop car shop to service your German import vehicle in Reisterstown, Maryland, there's no better place to go than Bart's Motor Works. In fact, they specialize in BMW, Volkswagen, Mercedes and Porsche. From the typical, day-to-day procedures like oil changes and state inspections to detailed engine, electronic, braking, suspension and exhaust system maintenance and repair, you are sure to find the service you need.

Unfortunately, the outstanding quality of service provided by Bart's Motor Works was seriously impaired by its web presentation. Their old website lacked the layout, ease of use and visual appeal people have come to expect from service-based websites. WebFrootz knew the first order of business was to improve the site's image through web design.
WEBSITE BEFORE
Home Page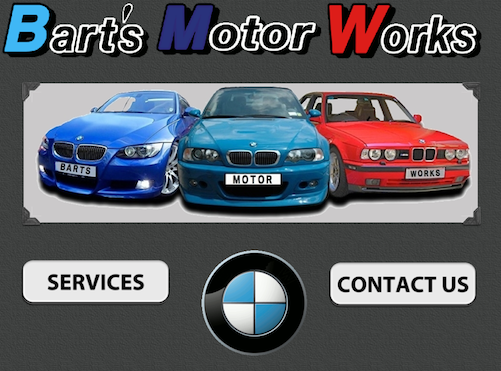 Services Page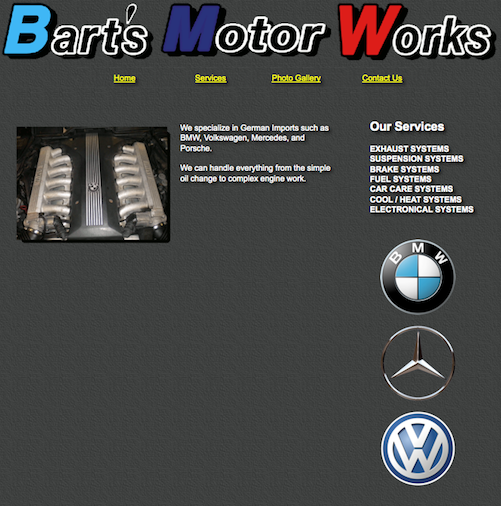 WEBSITE AFTER
Home Page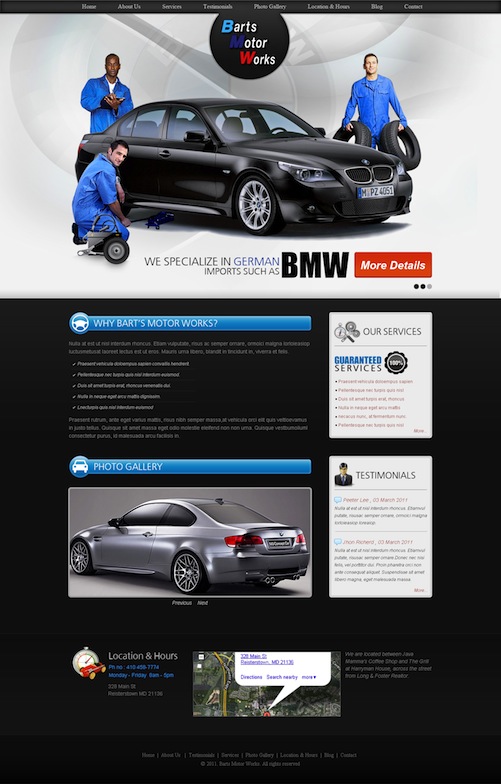 Photo Gallery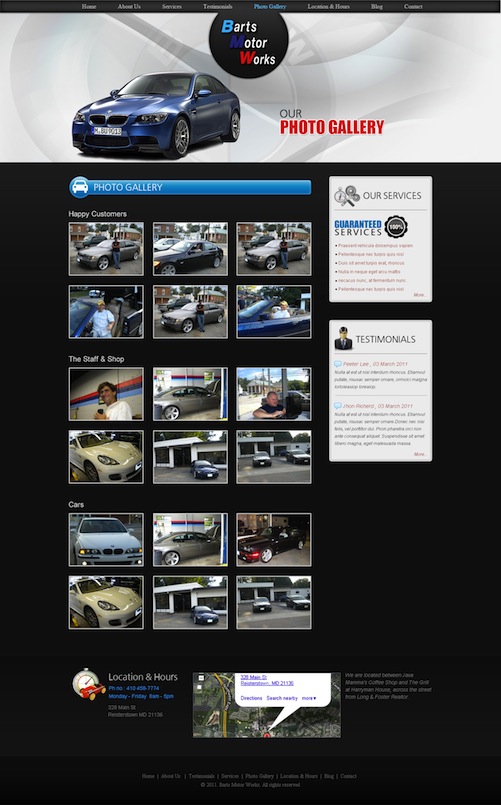 WebFrootz built the site around the customer's logo at their request. With shirts and business cards already printed, the web agency had to keep it as is. Even so, the site now makes it perfectly clear what Bart's Motor Works specializes in: BMW, of course.
So, the new site is easy to look at, but it also utilizes an intuitive user interface. The services provided are listed on the right hand side as well as in a drop down menu at the top of the page. Customers can now easily find the information they need and feel comfortable entrusting their vehicles with Bart's Motor Works due to the overall professional design and up-to-date, clean web programming.
SEO strategies have also been implemented to help the company gain more customers and expand their brand to dominate the local German import car maintenance market.
Services Provided
Bart's Motor Works utilized numerous services offered by WebFrootz to improve site quality and functionality and expand site exposure. In all, the web agency provided web design, web development, structure and layout, programming, SEO and CMS.
Improved Site Look Makes for New Beginnings
Bart's Motor Works already had a devoted local customer base. But with a completely redesigned site, they've attracted new customers, creating a new start for an established company. The web design is user-friendly and functional, bolstering the vendor's trustworthy factor, a definite plus for increasing clientele. Increased SEO efforts have also proved fruitful, getting them in front of as many Maryland import enthusiasts as possible.
If there's one thing to take away from the one eighty WebFrootz delivered is this: even an established business like Bart's Motor Works can stand an upgrade every now and again. And by combining solid web development with appealing web design and tossing in some SEO pizzazz, Bart's Motor Works is quickly rising to the top of its niche.