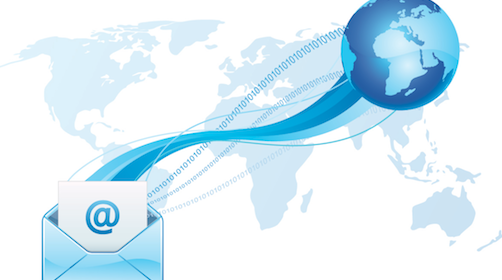 Email Marketing: Continue the Conversation with Customers
Email technology is nothing new, it's one the oldest and most popular forms of communication on the internet. Everyone treats it differently, some people use it the same way they use "snail mail", they check it once a day and leave it alone. Others use it as one of their main lines of communication and a source of up to date information on their favorite topics. Most businesses make heavy use of email internally to keep their employees connected and communicating. However, businesses can also use email marketing as a very effective way to connect with and monetize their web traffic if they know how.

Email Marketing: Add Email Submission Form to Your Website
Obviously, in order to start utilizing email as a means of networking with clients and customers, you are going to need a website. Chances are you already have one, but it can always use improvement. The web is constantly evolving and you should make it a point to adapt to it. Users don't want to be bombarded with sales pitches and blatant commercialism; they want nice clean interfaces that invite them into the site to check out what it has to offer. Populate your website with content that's useful and interesting to your visitors, your initial goal with any new user on your website is to gain their trust as quickly and completely as possible.
Email Marketing: Collect Customer Emails
The ultimate goal is to get your visitors name and email onto your email subscription list or newsletter. You may not have given much thought to this aspect of your business, and if that's so then shame on you. Think about it: if a visitor willingly provides their name and email address for the purpose of receiving more information about your business or topic, they are no longer a visitor- they are a lead. This is the best kind of traffic you could hope for, they did all the preselling and advertising for you.
However, it's not as simple as throwing an opt-in form on your site and calling it a day. You need to hold your visitors by the hand and lead them there, and then offer them an incentive for signing up. The trick is to make the existence of your form visible and to make the visitor conscious of it, but not to throw it in their face. If you even think of using a pop up for your email newsletter opt-in form, your target audience had better be either the over 80 crowd or the "Extreme Naivety" niche. Your best bet is to put it on the sidebar and use a slightly more vibrant color than the rest of your site. You should also include it on any sign up forms for things like purchases, forums, memberships, etc. Offering a free gift is great too, but make it a meaningful and valuable one that pertains to your business.
Email Marketing: Develop Newsletter and Send Email Updates to Your List
Once you have your loyal following of targeted leads, it's time to send out your newsletter or regular updates. The frequency of the updates needs to be carefully considered. Daily updates are a big no-no, people hate having their inboxes full of messages from the same source and they consider it spam, they will be off of your list in no time. If you space your newsletters out too sparsely, you won't get enough exposure and many of your leads will just forget all about you. Once or twice a week is usually a good frequency.
Email Marketing: Newsletter Content and Design
As far as the content of your newsletter goes, really try to make it something worth reading. Provide the latest headlines in your industry, offer exclusive information on upcoming events and really try to get your reader involved with your business and coming back to the site. Don't bore them to death with dull company news, very few of your subscribers signed up to hear about your quarterly sales reports. Put yourself in their shoes, if you were someone interested in the services or products that your company offers, what information and resources would be of interest and value to you? Get a nice clean and colorful email template and stick with it, consistency is professional. Remember, the email networking and marketing scene is all about building trust.