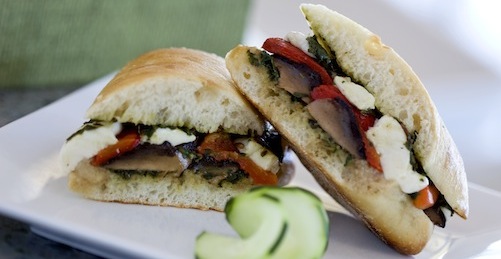 As a restaurant owner or manager are you taking advantage of all the opportunities offered up by the Internet or are you still counting on word of mouth and a traditional print marketing program to get diners filling your place? Are you even aware of what the Internet marketing can do for you? If you're not you're giving up business to your competition.

Take a moment to Google your type of restaurant (Italian, seafood, deli etc) and the name of your town and see what comes up on the first page. Do you see your name? How many competitors do you see? Now ask yourself "How many potential diners are going to come to my restaurant based on these results"? The answer of course is nada. Can you afford to give that business to your competition?
Location, location, location
Many local small and medium sized businesses have discovered the value of having an internet presence but it wasn't always that way. Most local businesses thought the internet best served big companies. On top of that, most small local businesses simply didn't have a clue how to participate effectively and they were too busy running their businesses to learn how.
The fact of the matter is that 72% of all searches are related to a search for local content. Nearly a year ago the monster search engine Google changed their algorithms so that local results show up on a search inquiry whenever appropriate. That means your shop can be just as competitive as a national restaurant chain when it comes to being found in search.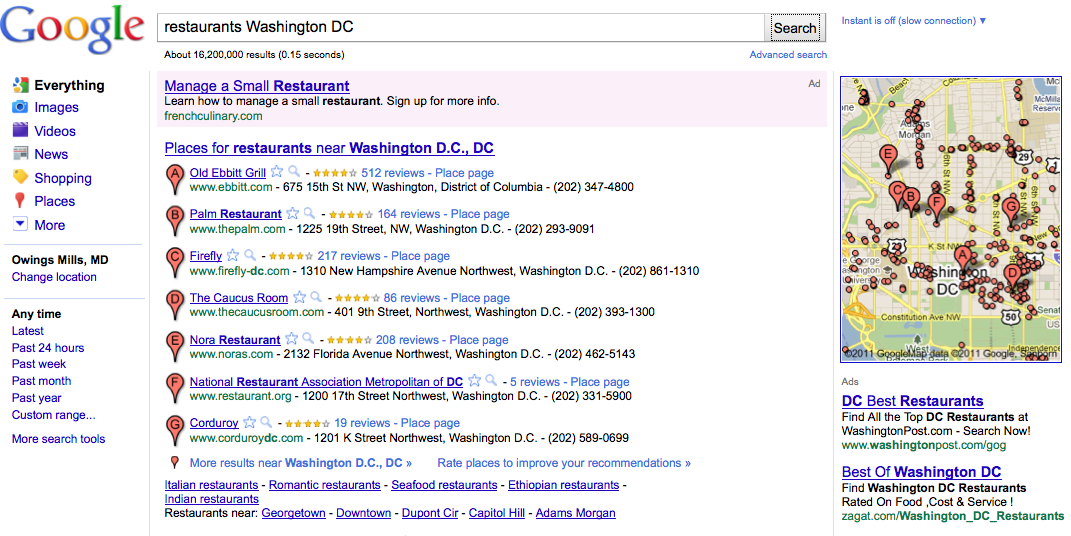 The difference between search and traditional advertising
So why is search such a big deal? The reason it is so much more effective than traditional marketing is that it responds to a specific need at a time when the potential diner is interested in the information. Unlike a weekly flier that's dropped in the home mailbox every Thursday, search doesn't clutter up a prospective diner's life but rater provides relevant information when the diner wants it not when the USPS delivers it.
When that potential customer is thinking about where to go for lunch he or she is going to search "pizza san pedro, ca" to find what's available in the area. In other words search delivers the information when the searcher is most receptive to it.
But wait there's more
Search by itself is reason to have a presence on the internet but the benefits certainly don't end there.
How would you like to be able to:
Notify all of your customers what your daily specials are every day automatically.
Invite your customers to place their order in advance so they don't have to wait for their food and do it without spending any time on the phone.
Accept and confirm reservations electronically.
Run promotional campaigns without spending a dime on advertising.
Build solid customer relationships that will strengthen your word of mouth referrals.
And that's just the beginning. A professional internet presence will cost you significantly less than you are currently paying today for marketing. What's more, professionally managed internet presence keeps on giving even when you stop paying. Can you say that about your Yellow Page listing or print ads?
Online Reputation Management
There can be a potential dark side to this whole internet thing. You live or die on your reputation and it is important that you manage that reputation online. Never has the consumer had such an easy way to post anonymous comments for all the world to see. If you have a customer who has a bad experience don't be surprised if he or she posts it to a blog or a forum or gives you a bad review in the business directories.
Speaking of business directories, you already are on the internet even if you didn't know it. These directories scrape information out of Yellow Pages and other sources and add it to a business profile. You have a right to claim those listings and they are actually a great way to promote the business. But registered visitors also have the right to post reviews and if the only review your store has is from that disgruntled customer…your rep is shot.
There are just too many reasons that you have to get involved with the internet marketing. To not do so is to pass up an incredible opportunity for new business and to cement loyalty with regular customers. It's effective, inexpensive and essential if you want to remain competitive.