Everything Home Solutions, a trusted screener of home service contractors and vendors, wanted more than just a website representing their brand on the internet. They have a reputation as being a continuous screener not just a business directory like so many of their competitors. Everything Home Solutions does an exhaustive initial background check of contractors and then performs follow up checks to insure that licenses, insurance and bonding, as well as new references, continue to qualify them for Everything Home Solutions' respected "Check Mark of Approval" designation.

They do an incredible job of screening home service contractors and they wanted a website that conveyed that commitment to quality. But they also wanted a site that could interact with consumers seeking this free screening information and interact in a way that was easy, intuitive and allowed for building visitor relationships on a long term basis. WebFrootz presented them with an "everything web solution" that they couldn't refuse.
Building a website to engage the visitors
Currently Everything Home Solutions only serves the state of Maryland so the branding strategies and local search optimization became an important part of the overall development. The company took advantage of WebFrootz's staff of online marketing experts to develop a corporate identity that reinforced their claims as a premier, trusted source for screened home service contractors and positioned them as a leader in their marketplace.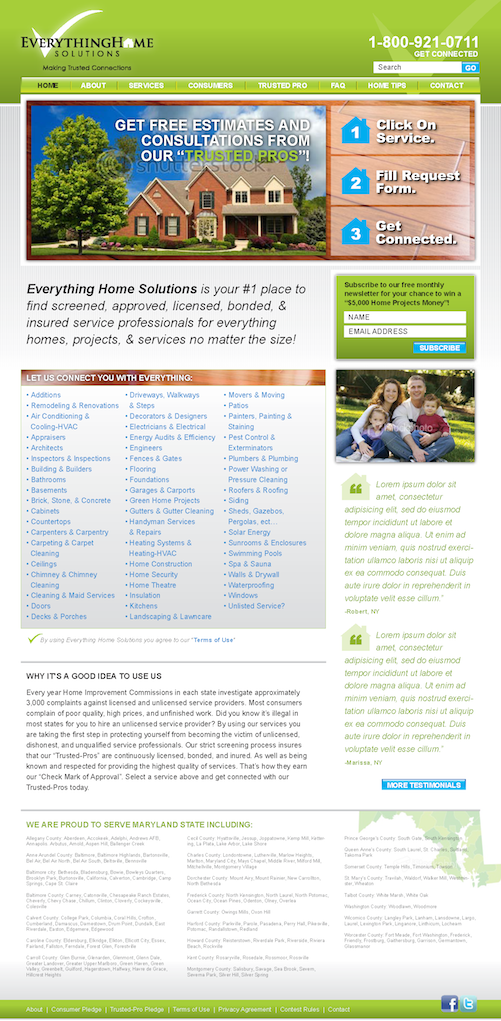 The site itself has a look and feel that appeals to homeowners and the crisp design suggests a company that has its act together and is serious about its service. By its very function the website interacts with visitors. Visitors select a category, submit a request form and then either receive an email recommendation or a phone call from an Everything Home Solutions staffer. In addition there is a free monthly newsletter that the visitor can subscribe to.
To effect this interaction and to manage the data received required that WebFrootz integrate a Salesforce.com CMS and an email marketing system. Requests are tracked, transactions can be recorded in the CMS and targeted email campaigns can be initiated. It doesn't get anymore interactive.
Services Provided
To achieve its goals Everything Home Solutions called upon the WebFrootz pros to come up with an effective website design, seamless functionality, local SEO strategies, branding and corporate ID efforts to include logo design and of course the integration of CMS and email marketing systems. WebFrootz also provided print marketing materials including business cards and brochures.