When the owner of Blue Ridge Workshop decided to take his furniture restoration business to the next level by creating an effective digital presence, he wanted a design and development firm that would treat the project with as much care and professionalism as he takes with his client's antiques and collectables. He chose WebFrootz.

One of the trademark characteristics of Blue Ridge Workshop is the collaborative approach they take with their clients in determining if their antique or collectable furniture should be refinished, repaired or restored. They explain the pros and cons of each choice and how each will impact on the client's ultimate objective. Once the decision is made, they do all of the work by hand, from start to finish in a way that will, to the best of their ability, preserve the value of the item. This client involvement and careful crafting is what differentiates Blue Ridge Workshop from the competition.
Bringing Blue Ridge Workshop to the internet
Interestingly WebFrootz follows a very similar approach to business. Establishing a meaningful online presence for Blue Ridge Workshop was a consulting process that resulted in definitive objectives, strategies to achieve those objectives and a method to measure results.
WEBSITE BEFORE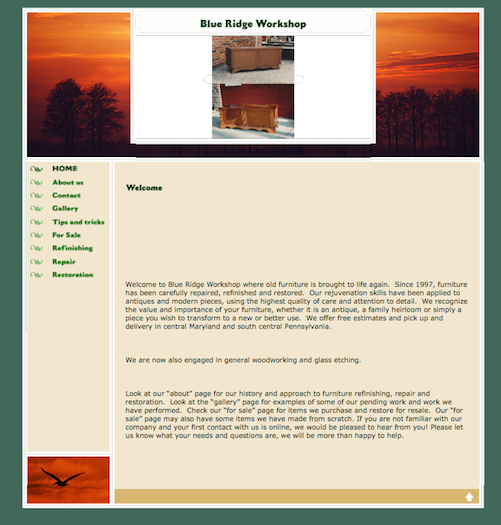 WEBSITE AFTER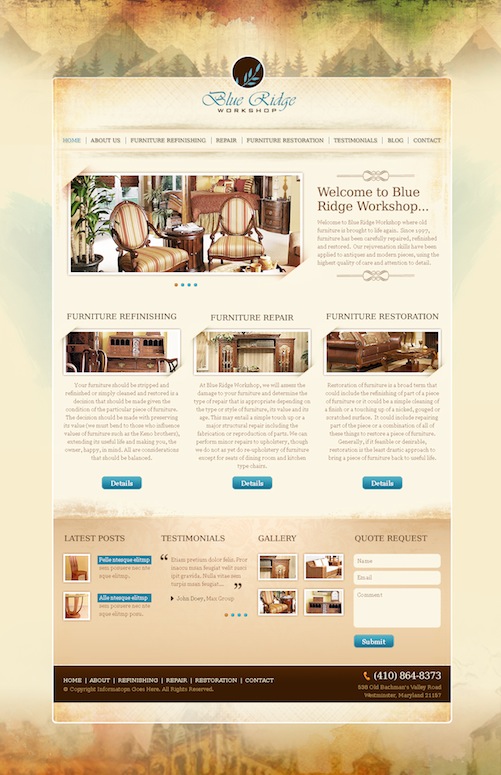 WebFrootz did much more than build a website, it set out a plan to bring the Blue Ridge Workshop brand and message to the internet in a way that would build positive reputation and achieve the client's expectations for new business opportunities.
Of course website design is important because it is the first impression and visual representation of the brand. WebFrootz provided world class graphics and layout that captured the look and feel that resonates with Blue Ridge Workshop customers. But as important as design is, the site first has to be found on the search engines and that means that site development and architecture must not only be highly functional but complement the SEO strategies as well.
NEW LOGO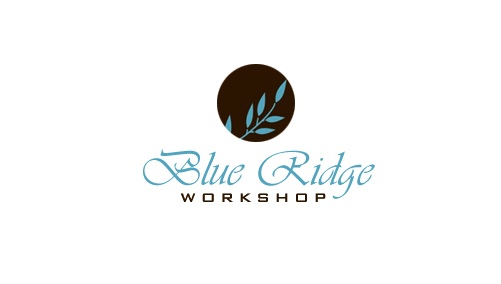 WebFrootz's team of designers and developers worked in tandem to produce a comprehensive and effective web presence that reaches Blue Ridge Workshop's potential market and then walks them through the brand message in an engaging and compelling way. In short, they delivered exactly what the client expected and more.
What the client has to say
Endorsements just don't come any better than this.
"The results provided by WebFrootz for my business were nothing short of stunning. They did a spectacular job redesigning my web site. It is visually beautiful and easily used. More importantly for me was the level of service given to achieve this end. They spent considerable time listening to what I wanted to achieve and spent an equal amount of time explaining what they did and how it all works. This was not e-mail or telephone time, it was face-to-face and apparent that they cared to help me and provide the best product for the money. I cannot recommend them highly enough".
WebFrootz services provided
As part of this website design and development project Blue Ridge Workshop took advantage of WebFrootz's talent in SEO, branding/logo design, site architecture, site design, web development, and CMS.
Results
Just as important as the design and development of a professional website is the client's new understanding of effective internet marketing. Originally Blue Ridge Workshop was driving traffic using an expensive AdWords campaign. When WebFrootz marketing experts pointed out that the old website was incapable of converting that traffic to leads, the AdWords campaign was stopped and the redesign and optimization began.
The result was a professional website that positioned the client as a leader in his niche. Two weeks after going live the entire site was fully indexed in search engines and Blue Ridge Workshop was ranking for their important keyword phrases. But best of all…5 days after going live the site generated 4 qualified leads for Blue Ridge Workshop.
The combination of website design, development and on-page SEO has breathed new life into Blue Ridge Workshop's internet marketing efforts.