Better graphic design and functionality means a better experience for website users and a better experience means bigger purchases. This was the goal behind redesigning Archaeology Illustrated website.

The site had been active for several months, but had not produced the results its owner craved. Hungarian-born painter, illustrator and pictorial historian Balage Blogh asked WebFrootz to help take Archaeology Illustrated to the next level.
Balage Balogh brings the ancient biblical world to modern eyes at Archeology Illustrated. Renowned as the finest archaeological illustrator to have worked with Israeli and American scholars, Balogh shares the company's passion for fine art and biblical accuracy. He has worked with archaeologists, scholars and museums creating archaeological reconstructions.
Archaeology Illustrated stocks images depicting both Old and New Testament scenes that lend visual appeal to Bible handouts, lessons and sermons. But this purveyor of ancient art needed a new look and new tools for users to help grow the company.
WebFrtooz's graphic design seamlessly meshes modern convenience with the site's ancient illustrations to provide users an appealing and highly functional site.
New Home Page Design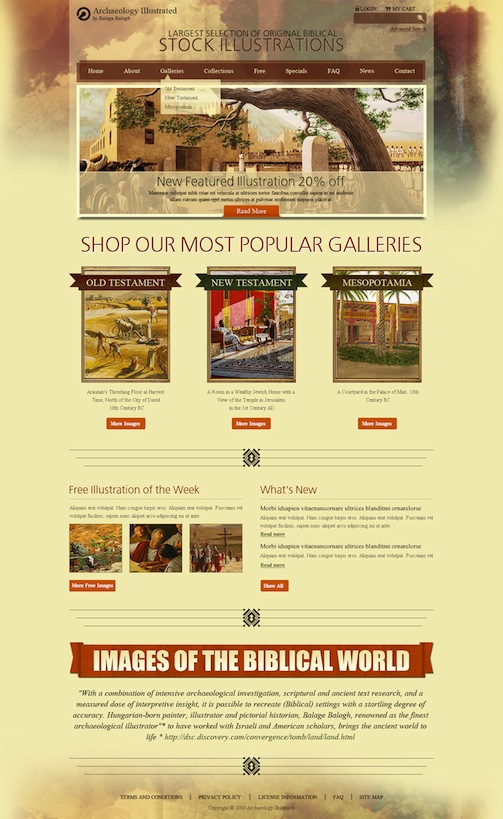 The new website now includes a home page slideshow to capture the eye, galleries where illustrations are organized into categories for easier browsing, collections where users can buy themed image sets (ideal for exegetical Bible studies), "specials" to display discounted images for budget-conscious users, contact form, blog to keep visitors coming back, search and advanced search, shopping cart integrated with PayPal for safe, efficient checkout and a section where users may leave comments on images, which helps create a sense of community on the site.
Users also enjoy features such as multiple image size options, pricing, resolutions, finding related images, add to favorites, ability to share favorites, and credits system, which enables users to buy credits that can be redeemed for illustrations.